Hot Disperser System
Work Principle
The hot dispersion system is used for handling the impurities in raw waste paper, such as hot melt material, asphalt, plastic and ink etc.
Overview :
To cope with the increasing demand for waste paper stock in the paper manufacturing industry, the waste paper stock preparation machines have been developed. Under such a circumstances, it was found that the "Hot-Dispersing" process is important. Compared to the conventional Refiners, beaters & squeezers , we would like to serve you as an adviser in improving your stock preparation and taking a new look at your production flow.
Optical cleanliness:
The principal task of disperser is to ensure good optical characteristics . Several processes takes place in dispersion that lead to improving optical cleanliness. Dirt particles are removed from the mottled fibers and hence are made floatable. The floatability of existing "Free" (detached) dirt specs is improved by catching size distribution. Also the dirt particles size reduced to below human visibility limits. Beside, bleaching chemicals are often mixed in the disperser.
Advantages :
Efficiently disperses Wax, Hot melts, Bitumen, Stickes, Laser Ink, as well as heavy co lours
Considerable Power saving during stock preparation.
A better fiber-bonding caused by a higher-concentration mixing results increase of paper strength.
Reduces web breaks on machine.
Increased production on Paper Machine.
Wider Choice of selecting Raw materials.
Improved Quality of your product.
Increase your market share, accommodates within a small Space Effectively Saves Chemicals, Steam, Electricity, Maintenance Materials, Yield Rate, etc..,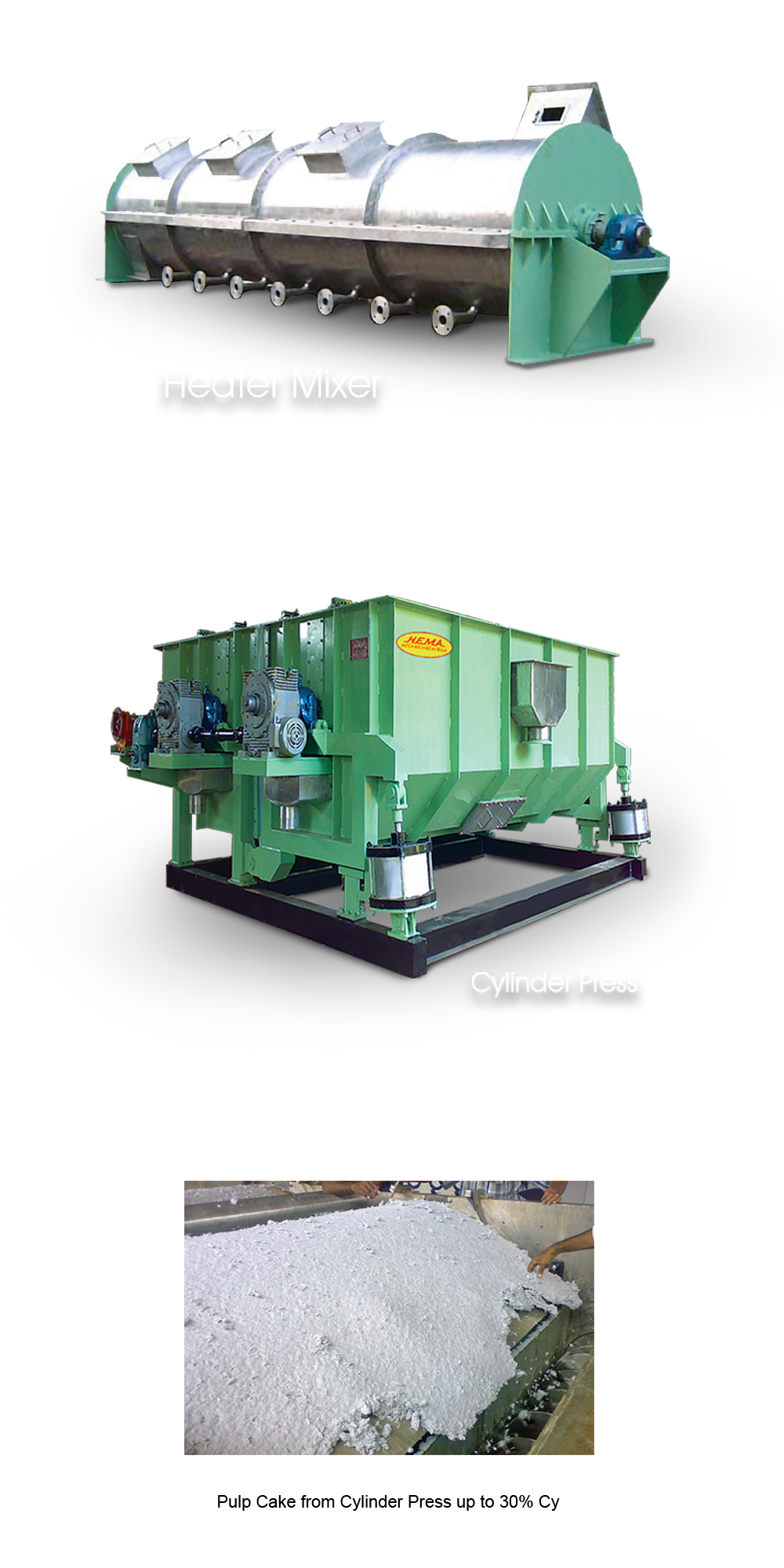 Cylinder Press : 
At feed point of dispersers, where inlet consistency is at the high order of 20-30%.+ which reduces effluent load. At "0" Fiber Loss. Lower power cost limited use of wash water low head installation are the advantages. Virgin pulp thickening, Can be used for removal of Black Liquor.
Our Dispersion systems are installed & Serving in following Mills:
1. Annamalayar Paper mills, Karaikudi, Tamilnadu 40 TPD
2. Aruna paper board-mills, Duvva, A.P, 50 TPD
3. GVG paper Mills, Udumalpet, Tamilnadu, 60 TPD
4. GVG paper Mills, Unit-II, Udumalpet, Tamilnadu, 50 TPD
5. Harikrishna paper mills, Udumalpet, Tamilnadu, 50 TPD
6. Harikrishna paper mills, Unit- II, Udumalpet, TN, 50 TPD
7. Heritage paper mills, Tamilnadu. 30 TPD
8. Indo-Afric paper mills, Pune, Maharastra, 50 TPD
9. Karthikeya paper mills, Coiambattore, Tamil nadu, 40 TPD
10. Ramachandra paper mills, Yeditha. 60 TPD
11. Ramalingeswara paper mills, Dwarapudi, A.P, 30 TPD
12. Rolex paper mills, palakol, A.P, 50 TPD
13. saijyothi paper mills, Kodada A.P, 50 TPD
14. Sameera paper mills, Mandapeta, A.P, 50 TPD
15. Seshadri paper mills,
16. Seven Hills paper mills,
17. Shah pulp and paper mills, Vapi, 120 TPD
18. Siva Kalyani paper boards, Jegurupapdu, A.P
19. South India paper mills, Nanjangud, Karnataka, 50 TPD
20. Sri Chakra Paper Mills, Pedda puram, A.P, 100TPD
21. Srinivs Paper mills, Chennai, Tamilnadu, 30 TPD
22. Vedadri paper mills,
23. Vishnu priya paper mills, Chennai, Tamilnadu, 40 TPD
24. Sudarshan Paper mills, Mettupalayam
25. Meridian Paper mills, Nagapatnam, Tamilnadu
26. Sudheer Maan Paper Mill , Tamilnadu
27. Supreme Paper Mills , Kolakota
28. Sripathi Duplex Board Plant , Sivakasi
29. Sri Vastha Paper mills , Udumalpet
30. GVG Duplex Board Plant (3 Units ) , Udumalpet
| Model | Capacity TPD | Disc Diameter (mm) | Handing Consistency | Handing Temperature | Motor Power (kW) |
| --- | --- | --- | --- | --- | --- |
| HPHD-30 | 20-30 | 400 | | 20 | 110 |
| HPHD-60 | 40-80 | 500 | 25%~30% | 80° - 130° | 200 |
| HPHD-120 | 80-120 | 700 | | 140-180 | 400 |
| HPHD-200 | 150-200 | 1000 | 160 | 185 | 800 |